---
Educational Programs
Who wants to learn about traditional printing?
Persons who use new technology for assembling pages of text will benefit from seeing how printing and typesetting was done without computers.
Classes and workshops on traditional printing include:
Certificate in Typographic Perspective (two weeks full time). Really get to understand letterpress typesetting and printing and develop your skills.
All-day workshop ``Roots of Printing'' workshop. Intensive, small group. Intended as Professional Development for designers, printers and printmakers. Completion qualifies to use the letterpress studio.
Graphic Students' Workshop: Five hours, a bit of theory, a bit of practical. For secondary and tertiary students of Graphic-related subjects like Visual Communications, Typography, Journalism.
---
Visitor Programs
The Museum is now open for public visits. Go to this page for days and prices.
Our plan is to open more of the Museum in due course.
SEE OUR MUSEUM SHOP PAGE for details of souvenirs of traditional printing available via the post.
Expansion of days and scope will depend on volunteers. Enquiries about the volunteer program will be welcomed.
Find out how printing was (is) done without the use of computers.
---
Why is it on hold? We lost most of our Linotype machines due to an angry landlord when we were short of funds. He smashed them up and sold the scrap! The paragraphs below have been retained just in case we can get some more.
Do you remember the way newspapers were typeset before they went to cold type composition? Most newpapers had a composing room with up to 80 Linotype or similar linecasting machines and a great array of other equipment needed to typeset and assemble the pages each day.
This Museum intends to recreate a full-size, workable Newspaper Composing Room to enable modern-day workers and students of the media to experience the sight, sound, smell and hustle-and- bustle of that incredible workplace.
We already have a lot of the needed equipment . . . over 50 linecasters, for example. But we don't have resources to carry this valuable project through unaided.
And of course there are more needed newspaper items.
``read all about it ! . . .''
---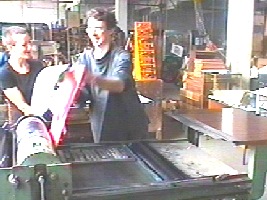 Our Letterpress Studio
Access Studio
Artists, designers, writers and poets are welcome to use the museum's types and presses. Training is via the Roots of Printing workshop (see above).
Letterpress produces a result unobtainable by laser, offset or photocopying. The paper is deformed by the pressure of individual inked letters.
Are you a Book Lover / Book Arts enthusiast? Read about our BOOK LOVERS' AND HISTORIANS' SPECIAL
---
Research Access is available:

Researchers may trawl our vast collection of equipment, artefacts and business records for various investigation and publication. A request is required from your academic supervisor. You will find many streams of (mainly) historical information: printing, publishing, engineering, design, business methods.

Please call our Director.
---
The Museum, through its Museum Support Program, assists other museums to interpret, conserve, complete and perhaps operate any items in their collection which relate to typesetting or printing.

We are able to supply metal types and other materials needed for use of letterpress printing. We will try to source items of equipment for loan or otherwise, and may be able to supply spare parts.

This service is also available to academic institutions (e.g. Librarianship, Graphic Design, Professional Writing) if they have an interest in traditional typography.

Artists (printmaking), enthusiasts and old-timer printers are not forgotten, with supplies of hard-to-get items often available.
---