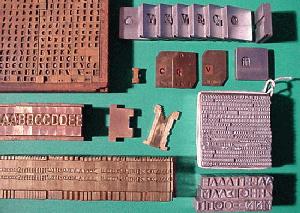 Australian Type Company
Australia's last firm to make hand-set types. Still producing as required. Many orders can be completed from our extensive stocks.

All proceeds go to the Melbourne Museum of Printing.


.
Export orders are welcomed. Normal despatch via Australia Post's ``Economy Air'' service, or your choice of carrier. When you ask for a price, ask for the approximate weight, too, so you can obtain a freight rate from your carrier.

What do we sell?

HAND-SET TYPE FOUNTS sized from 5 pt to 72 pt..

We make nearly 100 attractive and useful typefaces, each in numerous sizes: about 1000 different founts available. All faces are available in small packages, with or without lower case, or as large founts suitable for bookwork (Made to order). Supply as `sorts' (loose letters) is assured, and hand composition of single lines is also available.

Of special interest is our range of decorative faces:

These include Palace Script (true joining), Dorchester Script, Pepita, Ashley Script, Temple Script, Monotype Bold Script, Othello and Othello Shadow, Gill Shadow, Rockwell Shadow, Old English and several others. And there are more decorative faces waiting to be cast from matrices recently arrived.

Our book faces include Baskerville, Bembo, Bodoni, Garamond, Perpetua, Plantin, Rockwell and Times New Roman. Most of these are available from 6 pt to 12 pt (some 14 pt) in machine composition and from 6 pt to 36 pt in founts for sale. Some faces go up to 72 pt. Most of these sizes have an italic and bold version.

Sans Serif faces include Gill Sans, Grotesque and Univers in a range of weights, up to 12 or 14 pt for machine composition. These faces together with two widths of Grotesque Condensed, Headline Bold, Placard Condensed and several others, are also available from 14 pt to 36 pt and some up to 72 pt as founts for sale.

Foreign languages are catered for, to a limited extent. We currently produce type in the Cyrillic (Russian and similar languages) and Greek alphabets. We hope to add new alphabets and new sizes. A good range of European Accents is available up to 12pt, in a limited range of faces.

LEADS (spacing strips): in 5 kg packets or cut to users' requirements. Try one of our LEAD PACKs: you get 2pt, 3pt, 6pt and 12pt, eight pieces of each, cut to your nominated length from 10 picas to 120 picas.

RULES (strips to print straight lines): in many sizes, some with multiple lines on the one strip. Available in 5 kg packets, or cut to user's requirements, or mitred to make boxes to order.

BORDERS - CONTINUOUS: 6 and 12 pt (strips to print a decorative line). Available in 12 inch lengths singly or in any quantity, or mitred to make boxes.

BORDERS - UNIT: in many sizes and designs (single types with a decoration instead of a letter): can be arranged in lines or otherwise. Available in small packs or bulk.

HOT-METAL TYPESETTING available by mail order: using Linotype, Intertype, Ludlow Typograph or Monotype Composition Caster. Over 1000 faces and sizes available.

A range of OTHER PRODUCTS used in letterpress.
---
How to Contact Australian Type Company
Phone, write, fax or E-mail to the same addresses as the Museum.
---
top of Page