typography; typographic research; industrial history research; newspapers; composing room; stereo moulding press; flong; re-enactment event; linotype; letterpress newspaper
Melbourne Museum of Printing

THE MUSEUM'S PROGRAMS
Newspaper Composing Room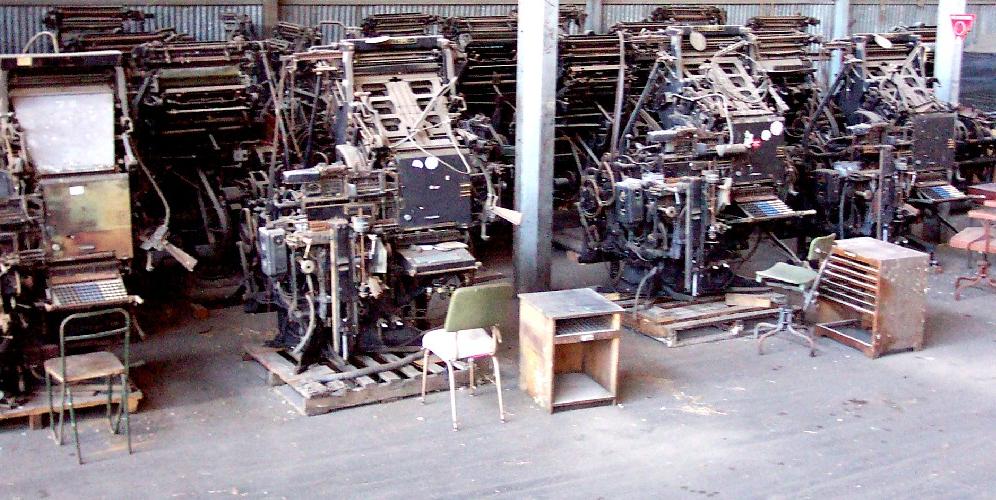 Newspaper Composing Room?
Do you remember the way newspapers were typeset before they went to cold type composition?

This sad sight is about half of our Linotypes and Intertypes lined up to look a bit like a composing room. They are awaiting restoration. Most of them are workable with some effort.

The re-enactment events will see these and other machines set out properly, wired up, cleaned up, accompanied by all the other items needed in a comp room.

Our first re-enactment event may occur as soon as 2007. Be part of it? Picture yourself taking part in a working comp room with 40+ linecasters as well as Monotype and hand-setting!

Most city newspapers had a composing room with 40 or more Linotype or similar linecasting machines and a great array of other equipment needed to typeset and assemble the pages each day.

This Museum intends to recreate a full-size, workable Newspaper Composing Room to enable modern-day workers and students of the media to experience the sight, sound, smell and hustle-and- bustle of that incredible workplace. [Serious Enthusiasts welcome too!]

To that end, the Museum has already assembled a great collection of equipment including over 50 linecasters (Linotype, Intertype and Ludlow), a stereo moulding press and other items including proofing presses, stones and galleys.

What the organisation is unable to achieve at present is the resources to house this collection properly and put it on show.

When we can do so, it will be used in two main ways.

It will become an important feature of our `open museum' and be visited by thousands of the general public and tourists each year.

Secondly, we will encourage persons with interest or experience to gather, perhaps yearly, to re-enact the composing room. They will write, typeset and print a few newspaper pages, using all available processes. Between those occasions, individuals will visit to learn, relearn, or teach the necessary skills and mentally breathe in the unique atmosphere.
Find our Re-Enactment Gallery in our Picture Gallery Index. See pictures of our Linotypes, Ludlow, etc that will be involved in the re-enactment.
The Museum believes that the proposed facility has the potential to attract past and present newspaper persons from around the world. Along with other visitors, they will re-live the conditions in which newspapers were brought into the twentieth century.
The newspaper story would not be complete without representation of later technology. We are interested in working into the display some examples of (newspaper) photocomposition and pasteup, offset negatives and plates, and other examples of `modern but outdated' equipment.
If you would like to help the Museum with this great project, please call our Director.
WE ARE STILL LOOKING FOR NEWSPAPER ITEMS OF ANY KIND.
SOME SUGGESTIONS:
LINECASTERS INCLUDING TTS. ALSO SPARE PARTS.
PAGE TROLLEYS.
STEREO EQUIPMENT AND SUPPLIES (E.G. FLONGS).
COMP ROOM FURNITURE, DESKS, COPY CONVEYORS.
SAVED PAGES IN TYPE, AND/OR STEREO MATRICES OR PRINTING PLATES.
DIAGRAMS AND PHOTOGRAPHS OF NEWSPAPER COMP AND PRESS ROOMS, INCLUDING ALL ERAS. FROM 18th CENTURY RIGHT THROUGH TO THE PRESENT DAY.
OPERATING MANUALS OR OTHER DOCUMENTATION ABOUT WORKING LIFE.
COPIES OF NEWSPAPERS FOR OUR LIBRARY. DESCRIPTION OF HOW THEY WERE PRINTED.
PHOTOENGRAVING EQUIPMENT, ALSO KLISCHOGRAF OR SIMILAR. SUPPLIES.
PHOTOCOMPOSITION AND PASTE-UP.
---
<!================================================>
---
Return to top