A FULL DAY WITH TRADITIONAL PRINTING
This eight-hour intensive workshop is intended for professionals working in Design, Printing, Publishing, Advertising and Graphic Arts or teaching in those fields.

The Roots of Printing is also valuable for those who have gained an enthusiasm for printing by letterpress and wish to learn how to handle type and compose lines, paragraphs and complete pages. See the simplicity of assembling text without a computer!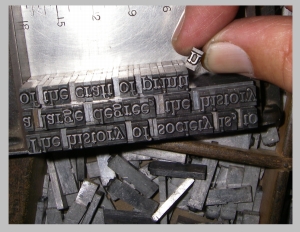 Participants explore the traditional rules of text assembly including type sizes (point, pica, em, en), leading, kerning and justifying and the linkages from those traditions into today's software. One aim is to help visualise what the software is doing. With metal types, it is all so visible.
When an individual holds a book or paper printed before the advent of computers, it is inspiring to visualise just what was involved in putting those letters, columns and pages together, letter-by-letter. The workshop shows the participant how metal type is set by hand and by machine; how spacing is controlled, both within the line and between lines; how type matter is arranged within the chase.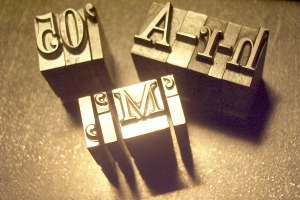 The workshop mainly deals with letterpress composition and printing, with some reference to lithography (offset). There is an emphasis on traditional methods and design factors. These are explained in terms of the four elements of printing (type/plate, ink, paper/position and pressure).
As a participant, you will compose a paragraph of text (of your choice), using a fount of type and a composing stick. Each line must be justified, which means the line is adjusted until it fits perfectly. If a line is even a tiny bit longer or shorter than the others the page will not lock up properly.
You then choose a typeface for a headline for your piece and compose it on the Ludlow Typograph, which uses hot metal to cast a solid line of type. Or you may choose a display typeface in regular type.
You then collaborate with the others in designing a poster incorporating the various paragraphs along with a group choice of other items such as poster type, rules and engravings. The full-size pencilled mock-up is an important part of the process. Then you learn how these parts are assembled into a solid type-forme by the use of various kinds of spacing material.
You will become familiar with the printers' system of measuring, and be able to find the needed items in the various racks (and be able to put them away correctly when printing is finished.
Because class size is restricted to a maximum of eight (and often only three or four), there is close contact with the presenter and the processes. Participants get to set some type by hand and by mechanical composition (Linotype, Ludlow or Monotype), as well as printing the group souvenir poster of the day's work.
If time permits, there is some discussion on proof-reading and correct punctuation, especially the use of the apostrophe, quotation marks, fixed spaces, ligatures, diphthongs and the dash. Is that the same as the hyphen?
Priced at $329 per participant (still the 2010 price) for a minimum booking of three.
NOW IT IS EASIER TO BOOK FOR JUST ONE, OR TWO
If you cannot get others to join in on a day to suit you, a SINGLE booking is available for $599.
With the single, you get a lot of personal attention, one-on-one, and the syllabus can be modified to suit your interests.
A double booking is also available for $429 per participant.
Fees must be paid 14 days in advance, usually by Inter Bank transfer.
If an additional person joins in when you have paid for a single booking, a credit adjustment will be offered.
FOR MORE PIX, SEE OUR GRAPHIC STUDENTS WORKSHOP PAGE
Email our PD Coordinator. See the Contact page and look for the PD email.