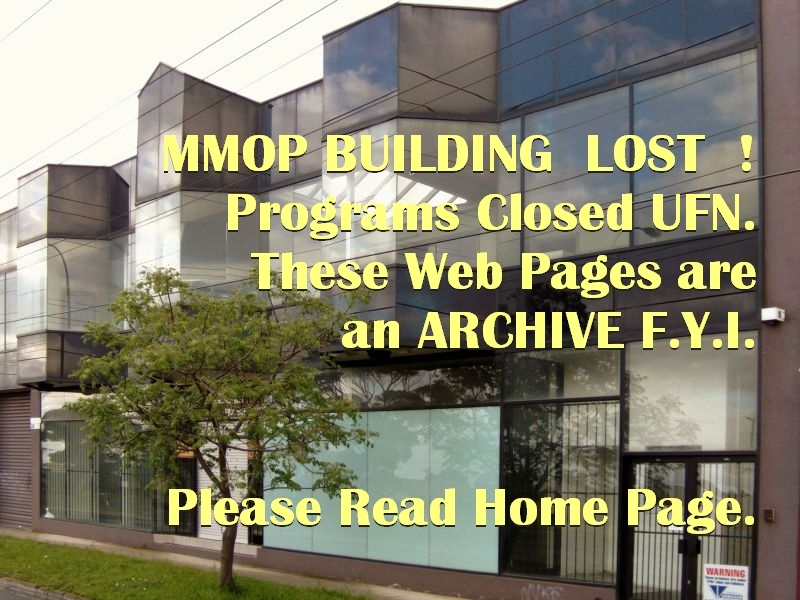 Melbourne Museum of Printing
About Us
&nbsp
CONTACT US
WHEN ARE WE OPEN?
WHY ARE WE HERE?
WHO ARE WE?
WEB NOTES
HOW DID WE GET HERE?
PLEASE VOLUNTEER


---
---
ADDRESS, TELEPHONE, MAP etc
How to find us and contact us
(links to our locality in Footscray, Victoria )
---
OPEN FOR GENERAL PUBLIC
Opening times,what you can see

---
OUR MANY MOVES AND JEOPARDY
Why, How and Where have we moved?

---
About these WEB PAGES
We are on the Web courtesy of VICNET.

Our Director, Michael Isaachsen, has been incrementally updating this website ever since its first edition in 1996 (with which he was ably assisted by Alana Wignell). Now David Hatton of ComputerBank is giving much valued assistance, especially with the LINUX-based computer equipment donated by them.

The Museum would be glad of help with the ongoing task of compiling information and images for the website.

Many pages are unfinished, and many more yet to be started. Even so, it is hoped that viewers will gain a useful impresssion of the range of our collection and services, as well as an interesting overview of the craft of `real printing'.
---
Organisational Matters
(non-profit voluntary organisation)
---
Our Director, other volunteers and Staff
---
Would you like to be a Volunteer?
(have a great time and learn about museums and about printing)
---
Mission Statement and Collection Policy
" . . . not just to preserve the machines but to provide an ambience in which experienced printers will be inspired to pass on their knowledge and practical experience."
---
Our Origin as a Typefoundry
Australian Type Company, Australia's last typefoundry, converted its collection into a museum.
---
Return to top