access workshop; access studio; printmaking; letterpress workshop; practical printing; book arts; book lovers; artists' books; self printing; self publishing; hand composition
Melbourne Museum of Printing

THE MUSEUM'S PROGRAMS
Access Studio Programs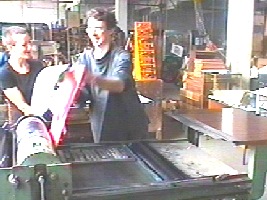 Access Studio Programs
---
THIS PAGE HAS BEEN REPLACED
An old link got you here
TO REACH THE UP-TO-DATE PAGE
---
Artists, writers and any interested persons are welcome to use the Museum's types and presses to produce their own unique printed works.

These may be single sheets or complete books.
---
<!=======================================================> Book Lovers' and Historians' Special

See how books were printed without computers, and try it yourself. We give all required training for you to typeset and print a typical book page of your choice. Takes about two days of mental concentration.

A number of printmakers, (both students and professionals) have made use of our Access Studio to produce text-based pages for their folio.

In many cases, the text has been added to sheets which have already received an image printed by other means such as etchings.

In other cases, the text component was on a sheet by itself. Or the text was accompanied by a relief block (such as a linocut) which was printed in the same pass. Or the text was the whole document.

This process is very suitable for the text component of ``Artist's Books''.

The work does not have to be pretentious. Very simple works have been produced quite elegantly by persons with no previous experience and who were not artists but just wanted to print something nice for themselves.

This is of course allied to the printmakers' program. This page explains some of the requirements for artists' books text components.

Writers' and Poets' Access Program

While anything printed these days by letterpress may be considered a work of art, the emphasis here is on design, typesetting and printing of complete works of prose or poetry.

And while many desire to produce their letterpress work as a limited edition, the process is also well suited to those who wish to produce a full-scale commercial print-run. The main requirement is to have sufficient time available.

The items produced may range from single sheets of poetry to complete volumes. And the sheet can vary in size from postage-stamp size with very small but clear type to large posters.
Information about Printmaking
Our pages about printmaking generally.

printed by visiting artists, writers, students and amateur printers.
---
top of Page