Printing terms defined, including typography, typefounding, typesetting, layout and design, workflow, lithography, letterpress. Clear definitions of type measurements like point, pica and em. Every term is designated as noun, verb, etc., and allocated to its field of work.
| | | |
| --- | --- | --- |
| Melbourne Museum of Printing | Glossary of Printing and Typography | |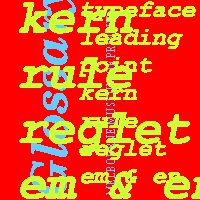 INDEX OF GLOSSARY PAGES
There are two glossaries, Alphabetic and Thematic, using a common pool of definitions. Definitions are found by browsing.

The Alphabetic Glossary has eight pages, covering most of the usual terms in typesetting, printing and related crafts. Words with more than one meaning may have several entries when viewed alphabetically.

In the Thematic Glossary, there are eight pages, with the same definitions sorted according to their themes. Definitions within these themes are arranged alphabetically.



---
INDEX OF ALPHABETIC GLOSSARY
AB : C : DEF : GHIJK : LM : NOPQ : RS : TUVWXYZ
INDEX OF THEMATIC GLOSSARY

THEME FILE
TOPICS COVERED
CHARACTERS, TYPEFACES
CHARACTERS
LANGUAGE AND USAGE
CHARACTER PARTS AND STROKES
TYPE FACE DESIGNS
LAYOUT, PREPRESS, TYPOGRAPHY
LAYOUT AND DESIGN
PRE PRESS, COMPUTER LAYOUT
TYPOGRAPHY - GENERALITIES
TYPECASTING, MEASUREMENTS
TYPE MEASUREMENTS
MATRICES FOR TYPECASTING
TYPE CASTING
MONOTYPE COMPOSITION CASTER
MACHINE TYPESETTING, HOT/COLD
LINOTYPE/INTERTYPE LINECASTER
LUDLOW TYPOGRAPH SYSTEM
COLD TYPE COMPOSITION
LETTERPRESS COMP, STEREOTYPES
LETTERPRESS COMPOSING
STEREOTYPING, RUBBER STAMPS
WORKFLOW, IMAGES
PROOF READING & CORRECTING
WORKFLOW
COLOUR WORK, PRINTING INKS
IMAGES, HALFTONES
PRINTING: LETTERPRESS, LITHO
LITHOGRAPHY INCL OFFSET
LETTERPRESS PRINTING
PRINTING, ANY PROCESS
FINISHING: CUT, NUMBER, BIND
CUTTING & CREASING
NUMBERING MACHINES & ATTACHMENTS
FINISHING & BOOKBINDING
EMBELLISHING
SUGGESTION: HOW TO EXPLORE THIS GLOSSARY
IF YOU KNOW THE NAME OF A TERM, GO TO THE ALPHABETIC PAGE
For example, to look up PICA choose the Alphabetic Page N-Q. You will find several meanings of this word, and that it is mostly used in TYPE MEASUREMENTS.TRY IT! (use BACK to return here)
IF YOU WOULD LIKE TO EXPLORE OTHER TERMS ABOUT ON THAT SAME SUBJECT,
look through the Thematic Glossary Index for Type Measurements. You will find that this subject is covered in the TYPECASTING, TYPE MEASUREMENTS theme. TRY IT! (use BACK to return here)


GO TO FIRST ALPHA PAGE (A and B)
GO TO FIRST THEMATIC PAGE (Characters and Typefaces)
---
OTHER GLOSSARIES ON THE NET
You may like to see our Index of Glossaries where other typographic glossaries are described and linked.
---
<!===========================================>
---
<!==================================================>